I juggle a lot of titles in my life. Mother. Wife. Daughter. Radio Host. Book Author. Occasional Room Parent. SisterFriend. Gardner. Cook. Chief bottle washer.
This season I get to add another title to that list: Ambassador.
My friend Dave Isay, the founder of the national, non-profit oral history project called StoryCorps has asked me to serve as the National Ambassador for another one of his wise contributions to American society: StoryCorps 3rd Annual National Day of Listening on Friday November 26th. That's the day after Thanksgiving — a day when most of us are still surrounded by family members eating leftovers and watching football on TV. (Or, for some of us still scrubbing endless pots and pans.) The holiday offers up a new ritual. Americans of all backgrounds and beliefs are encouraged to spend some time interviewing a loved one or someone in their community about their lives.
It's a brilliant idea and I could not be more pleased to help Dave spread the word about this important holiday. In truth, I'd already been on the case before he bestowed me with that Ambassador title because the holiday underscores the core message of my book, The Grace of Silence: Do whatever you can to capture as much as you can about your family history and your community's backstory.
"In an era of fierce political and cultural divides, we hope that the idea of listening to one another during the holiday season resonates with many Americans," says Dave Isay, who is also a MacArthur "Genius" and all around standup guy. He is a master storyteller and he is committed to helping other people find and celebrate their own family yarns.
Sit down, gather round and talk this Holiday Season. The National Day of Listening is November 26th!
In my case, I stumbled on my family history quite by accident and discovered that my seemingly ordinary postal worker parents were sitting on some extraordinary secrets that placed my family smack in the middle of some little known chapters in American History. As I like to say, I found the "I "in history. And as I travel around the country promoting my book, I talk to people everyday who are desperate to know more about where they came from.
Think about it. How well do you really know the people who will sit around your family table this Thanksgiving? Do you really know what their lives were like when they were young? Have they told you all about their triumphs and their struggles?
On that Friday after Thanksgiving most of us turn our attention to the preparations and gift giving for the next big holidays on the Calendar – Christmas, Chanukah, Kwanzaa, or Ashura. But before that juggernaut begins, take a moment to consider a day of listening. On a Friday so often marked by the stampede to the mall, slow down for an hour to interview someone you care about. It doesn't have to be a fancy affair. I'm not talking about a grand inquisition. It's more like a friendly chat — much like the conversations you hear on the radio when StoryCorps segments air on NPR's Morning Edition on Friday's.
Some Helpful Pointers:
* If possible do it over a meal because comfort food always does the trick. (After all you are probably swimming in leftovers.)
* Compile a series of simple questions. What did you used to do for fun on a Saturday night? Tell me about your first pet? Or, your first summer job? Or, the first time you saw the big city? Simple queries will open the spigot and get the conversation flowing.
* Remember to ask specific and evocative questions that will also tickle the senses. What did the trains sound like when you were living on the plains? What was the air like in a town filled with big factories? Can you still remember the taste of your wedding cake? Tell me about the day I was born? How would you describe the smells from your mother's kitchen?
If at all possible, try to record those conversations. It's easier than ever with today's technologies, using mobile phones, computers, flip recorders or video cameras. You can find a Do-it-yourself-guide on my website or at nationaldayoflistening.org. You'll also find more suggested questions and ideas for preserving and sharing NDL interviews.
Share.
I hope some of you will share some of what you discover in the Your Stories section at my website. And while you are there, if you have a foolproof recipe for a killer desert or a savory soup that always lubricates a conversation please share that too. You can and should also check out the StoryCorps Wall of Listening The Root's is also posting some of the best StoryCorps conversations on their website all week.
Preserve the Sound.
I have been able to provide my children with a fuller understanding of their family history. They know more about Grandpa Belvin and Great Grandma Ione than they ever would of if I had not researched my family memoir. But guess what? They will never hear my father's voice because I never recorded his story. It is one of my greatest regrets and this holiday I am going to make sure that we sit down as a family with a recorder rolling.
Photos are great. Letters are wonderful. Memories alone can sometimes sustain us through distance and even death. But there is nothing like the preserving the sound of someone you love telling their own
story, in their own words, with their own voice. If you must rush out to the stores that day and engage in retail madness. Have fun. But remember this, family history is an incredible gift — better than anyth
ing you will eve
r find any mall.
One last thing….
Please don't despair if you can't record a conversation using audio or video equipment. There is always pen and paper. And there's always next year, and the one after that. The National Day of Listening is not a one time event. It hopefully will become a National tradition.
Happy Holidays!
– Michele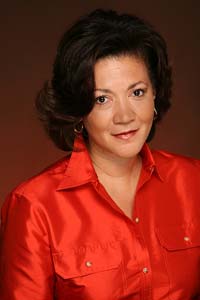 Michele Norris is the host of NPR's All Things Considered and the author of The Grace of Silence.
You can find it it your local book store or you can order it online at Amazon, Barnes & Noble, Borders, Powell's or IndieBound