I've got this little box in my office filled with all the little gifts I've received while traveling the country on my thirty-plus city book tour. It's quite a collection. There are picture books, poetry volumes, picture books and cooking guides. I received two blankets from folks who worried that I might catch a cold with all that constant travel and I felt a warm glow of appreciation on a red-eye flight when the blankets on board were reserved only for first class. That box contains little vials of hot sauce and perfume, stickers, photographs, CD's, water bottles, bookmarks, letters, a scarf, and even a vial of cow dung.
No fooling. In Iowa, a couple who watched the profits on their family farm dry up over time started a novel business selling the one thing they still had in abundance — cow patties. They had the good sense to gussy the stuff up present what they call "sanitized bovine excrement" in a cute little jar. (www.karmicbs.com) The vial comes with a variety of messages ("This jar is full of bullshit and so are you!") and it's meant to serve either as a practical joke or a novel way to make a strong statement. The farmer turned businessman,Bill Hennager asked me to pass my vial on to a politician in Washington — any politician- because he thinks they are all full of the same stuff he puts in those little plastic jars.
Needless to say, that was one of the more interesting relics in my collection of gifts from the road. I still marvel every time I look into that box and often reach in to grab something I can put to good use. On Christmas night I used the bag of California Select, premium Japanese-Style rice I received in Sacramento to serve with my traditional Christmas Gumbo. Delicious!
There are other things that I collected on the road that do not fit so neatly into that box. People who came to book signings, readings and lectures to hear my story wound up sharing their own tales. Many opened up about their own family secrets. My head spun when I met adults at several stops on the tour who remembered seeing my grandmother, Ione Brown, doing her pancake demonstrations when they were young children living in small towns. One of them recalled holding her hand as the two marched side by side during a Saturday morning parade in Michigan. She was incandescent when she shared that memory.
There were also lots of weighty emotion and tears as several people described their own complex racial legacies. There was, for instance, the former professional baseball player I met in Louisville. He was an older man, still athletic but stooped from age, who described with great regret how he remained silent when his team had to find lodging for dark-skinned Latino players who could not stay overnight in hotels on the road. Lighter-skinned latinos, he recalled, could stay with the team as long as they remained silent so their accents would not reveal their true ethnicity. He stood at the signing table in the lobby of the Louisville Free Library and repeated the same thing over and over again. "I should have spoken up. I should have spoken up." A black women a few people behind him in book signing line came forward and draped an arm over his shoulder. "You just did, Honey" she said.
Memories like that do not fit in my book tour box but they live on in my heart and in coming weeks I will share more of what I discovered on what I like to call "The Grace of Silence" listening tour.
Today, I will share a bit of advice I got from a professor in Salt Lake City. I first heard the thirty-second version while I signed a book for Lauren Weitzman, the director of a counseling center at the the University of Utah. I generally suggest that people try to find the courage to stay at the table when conversations turns prickly, especially when dealing with subjects like family secrets or race. It is the only way I was able to capture my own family history. As a counselor, Lauren Weitzman understood that message and offered her own twist. Instead of suggesting that people stay at the table she advised that they try to STAY IN THE BOAT.
You see, from her vantage point, dialogues about race are much like river-rafting expeditions. You never know what's ahead. The journey can be perilous, but also exhilarating and if you are brave enough to get in the boat in the first place, you often discover new things about yourself by the time you conclude the expedition.
It was a lot to pack into thirty seconds and Lauren didn't want to hold up the line by trying to explain her white-water metaphor so she sent a follow up email that's worth passing on:
Hello Michele,

I thought I would follow up our brief conversation last night in Salt Lake City. I'm the one who offered the river rafting metaphor for dialogues about race.

My colleague, Ellen Taylor (a fellow counseling center director at the University of Washington) and I came up with this metaphor as we continued to talk together about the conversations about race (and other forms of diversity) we are having in our centers. Our work environment is fairly unique in this respect as we put a lot of time and attention into thinking how to better serve our clients of color (and other underrepresented groups) and into training the graduate students who work with us, which really comes back to enhancing our own personal understanding/awareness. Our discipline umbrella is "multicultural counseling competence", which is an area that has gained in strength in research, writing, and clinical implications over the past thirty years.

Here are some thoughts about the river rafting metaphor:

· We all step into the river at a given point in time — the river is our history — our national/cultural/familial/personal histories continuing to unfold.

· 3 Rules of River Rafting: 1) Stay on the boat; 2) Stay on the boat; 3) Stay on the damn boat. We need to commit to hanging in there with each other as we have these conversations, especially when they become difficult.

· There are rapids as well as smooth spots — the river is fluid and ever-changing. So are our conversations.

· You never know what lies ahead, so maintaining an open/solid awareness of what's around you and having presence in the moment is important.

· There are two kinds of river guides: Those who flip their boat, and those who will. We will all make mistakes in this process. let's just name that and go easy on ourselves when we do.

· These dialogues are a journey and can be approached with a spirit of adventure.

Thanks again for your opening up this national dialogue and for risking sharing your own story. It's pretty inspiring to me and means a lot to know you are out there.

Lauren

Lauren M. Weitzman, Ph.D., Director

University of Utah Counseling Center
I am grateful that Lauren took the time to share her point of view. Hope you enjoy it… and hope you figure out how to stay in your own boat— wherever you are and however rocky your journey happens to be.
Happy Rafting!
Michele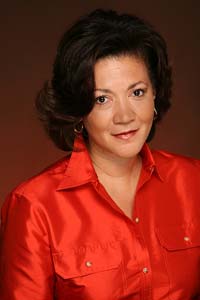 Michele Norris is the host of NPR's All Things Considered and the author of The Grace of Silence.
You can find it it your local book store or you can order it online at Amazon, Barnes & Noble, Borders, Powell's or IndieBound