NPR host Michele Norris reveals family secrets
Female journalist gives keynote address at Diversity Symposium
By Allison Sylte | RMSMC
Updated: 09/21/11 8:22pm
Despite naming her book "The Grace of Silence," Michele Norris wanted to start a conversation. More specifically, a conversation about race, a topic she says Americans don't discuss nearly enough.
"Why do we choose not to talk about the difficult chapters in America, particularly when they pertain to race?" Norris asked, addressing a standing-room-only crowd in the Lory Student Center Main Ballroom Tuesday night, where she served as the keynote speaker for CSU's annual Diversity Symposium.
Norris, an award-winning journalist, is the host of "All Things Considered," National Public Radio's longest running national program.
"I hate to admit it, but sometimes I get nervous speaking in front of the LSC Main Ballroom. But gosh, when I read that Michele Norris speaks to 13 million people a night…" CSU President Tony Frank said during Norris' introduction.
Norris was inspired to write "The Grace of Silence" during Barack Obama's presidential campaign. Her intention was to canvas the country and to get as many different perspectives on race as possible from anyone and everyone.
But when she uncovered secrets about her own family's history, the project took a different turn.
"My family has always been fueled by a desire to get better places fast," Norris said.
Because of that, she added, they rarely discussed the trials of their past.
Through extensive research and interviews with family members, she discovered that her father, a WWII veteran, had been shot by a police officer.
She discovered that her parents were singlehandedly responsible for integrating her neighborhood. And she discovered that her dignified grandmother used to work as an "itinerant Aunt Jemima," traveling across the country to give pancake mix demonstrations.
"I was fascinated," Norris said. "[Grandma] was traveling all around America in the 1950s. Women didn't do that. Especially black women."
What stunned her most is that her family never talked about these things, despite how significant they seemed. And she chalked this up to society's collective hesitation to address racial issues.
"We often don't know the people who raised us," she said. "… In sharing my story, I hope it inspires people to look at their histories."
To generate discussion about race, Norris encouraged her lecture attendees to fillout "race cards," or postcards where they could write their own six-word definitions about race and accepted questions from audience members about their own family histories.
Jenni McDermott, a senior human development and family studies major, has been to three of the past four Diversity Symposiums, and said Norris' presentation resonated with her the most.
"She was very powerful, and she had amazing things to say," McDermott said.
CSU Provost and Executive Vice President Rick Miranda agreed, saying he appreciated how knowledgeable and passionate Norris was about her subject matter.
Mary Ontiveros, CSU's vice president for diversity, said Norris' message is something that should be taken to heart as CSU goes about improving our discussion about race.
"It's something we're getting better at every year," Ontiveros said. "People are often hesitant about talking about race, so we need to create more opportunities to have those discussions, and I think it's something we're going to try more of in the future."
The Diversity Symposium will be held until Sept 22, and a full schedule is available at diversity.colostate.edu.
Content Managing Editor Allison Sylte can be reached at news@collegian.com.
Published September 20, 2011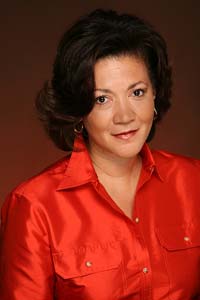 Michele Norris is the host of NPR's All Things Considered and the author of The Grace of Silence.
You can find it it your local book store or you can order it online at Amazon, Barnes & Noble, Borders, Powell's or IndieBound