Author inspired by candid chats about racial ties
By Dominic Adams | The Journal Gazette
Michele Norris, who has been host of NPR's "All Things Considered," makes a point during an interview Monday. The author and journalist later spoke as part of IPFW's Omnibus lecture series.
FORT
WAYNE – It was bittersweet when Michele Norris walked through Fort Wayne International Airport on Monday afternoon.
The city plays a vital role in her family story, and she opens her book "The Grace of Silence: A Memoir" with a scene from the Summit City.
"This is the last place that I saw my father alive," Norris said. "I had to take a moment at the airport (Monday.) It's one of the first scenes in the book – saying goodbye to him."
Her father was visiting his brother in 1988 when doctors discovered an aggressive brain tumor. Norris rushed from Chicago and put her dad on a plane back to his hometown of Minneapolis. By the time Norris got there, her dad had died.
Norris, is on leave as a host of NPR's "All Things Considered," was also a correspondent for ABC News and worked as a reporter for the Washington Post, Chicago Tribune and the Los Angeles Times.
Her book focuses on America's discussions on race since the inauguration of President Obama, and she is part of IPFW's Omnibus lecture series.
More than 1,000 people attended the event Monday night inside Rhinehart Music Center that included a question-and-answer session after her speech.
Earlier Monday, Norris spoke with IPFW students about something she considers vital to her work as a journalist and author: the interview. Norris asked the students whether they had social media accounts with services such as Facebook and Twitter.
"If you really want to meet with someone in a most meaningful way, you have to do so in more than 140 characters," she said referring to the amount of space one gets when writing on Twitter.
She then related this to her experience writing her book and talking to her family.
Can you express your thoughts on race in six words?  Give it a try at The Race Card Project™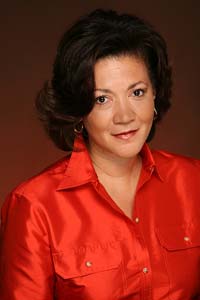 Michele Norris is the host of NPR's All Things Considered and the author of The Grace of Silence.
You can find it it your local book store or you can order it online at Amazon, Barnes & Noble, Borders, Powell's or IndieBound