NPR's Michele Norris reflects on 'The Grace of Silence'
A renowned and respected journalist, Michele Norris knows about the power of communication.
As the keynote speaker during a recent breakfast of The Inclusion Initiative, Norris left the audience with a simple yet significant reminder. "There is always power in understanding and there is always power in words," she said.
Even those that are not spoken.
Norris focused on the ways in which silence can speak volumes, and how avoiding difficult discussions about issues like race and inclusion can impact people perhaps more profoundly than anything that's actually said.
Many know Norris from NPR's popular program "All Things Considered," where she's served as co-host since 2002; in fact, Norris is believed to be the first African American woman to appear regularly on NPR's airwaves. Her journalism has earned her numerous awards, including the National Association of Black Journalists' 2009 Journalist of the Year, Emmy and Peabody Awards and four Pulitzer Prize nominations.
In her lecture, Norris noted that throughout her career, she's become increasingly intrigued by how race factors in the subjects she reports on. Her interest in the topic of race in America peaked after she co-hosted "The York Project: Race and the 2008 Vote." Shortly thereafter, she set out to research and write a book that contemplated Americans' complicated relationship with race. However, the book she ended up writing was decidedly different than what she had had in mind.
"I went out intending to write about other people," she explained. "[But] when I went out to try to find America's hidden conversation about race, I started to hear something interesting very close to home with the people I had known all my life, the people who raised me, the elders in my family."
She realized that Barack Obama's election was a catalyst that initiated long-overdue conversations among her relatives. "In the wake of this election, something shifted in a lot of people," she said. "And certainly, I witnessed it in my family. It kind of animated the memory bank. It was like this historic indigestion. Things were sort of bubbling up, and … it was always when we had a meal that someone would serve up some memory that they had just sat on all their lives."
The book she had envisioned eventually morphed into "The Grace of Silence" (Random House, 2010), a memoir detailing how revelations about the "complicated racial legacy" of her family rocked her figurative world and redefined her understanding of her family and herself.
At one family dinner, for instance, Norris' uncle revealed that in the 1940s and 1950s, her maternal grandmother worked as "an itinerant Aunt Jemima," one of several women who would travel to small towns to serve pancake suppers to whites. Her grandmother's role as an "Aunt Jemima" stood in stark contrast to the refined, articulate, community-oriented "committee woman" she was known as, and many in the family, especially Norris' mother, refused to talk about it. But after unearthing a newspaper clipping where she spoke about the job, Norris realized her grandmother and the other traveling "Aunt Jemimas" saw it as an opportunity to subtly subvert some of the stereotypes associated with African Americans.
"She said that she knew that when she went into these small towns, that she was going to meet people who had never seen a woman of color before," Norris said. "So she saw herself as an ambassador."
For example, her grandmother and many of the other "Aunt Jemimas," refused to speak the "broken English" that the character used in advertisements. "They said, 'I'll take the job and the paycheck, but I'm not going to use that language, I'm going to speak in a different way,' " Norris said.
When her father disclosed that he had been shot by police officers decades earlier, Norris knew the little information he had provided about the shooting was certainly not the whole story. But when she probed her family for details, they politely refused, preferring instead to leave the past behind them.
So Norris traveled to Birmingham, Ala. — her father's hometown and the site of the shooting. Once there, she discovered that at the time her father was shot, there was a disturbing pattern of violence against black veterans who were exercising their voting rights.
Still, younger generations know little to nothing of these seemingly small struggles that effected larger, lasting change in the lives of individuals and in the country as a whole. "Communities as a whole decide to stop talking about things that are difficult," she said. "It's lost to history, and the reason we don't know about it is because the people that lived through [it], people like my father, stopped talking about it. They locked it away."
Norris believes exposing those suppressed stories is the key to understanding America's highly racialized past and envisioning a future where race takes on new meaning. And for the record, she doesn't believe the future should be post-racial.
"I'm not sure that moving toward the goal of being a post-racial society is necessarily the place we would want to be," she said. "To move to a post-racial society sounds to me like going back to black and white television. And I just don't want to see the world rendered in shades of grey. I think that the colors and the textures are what make America interesting."
What writing "The Grace of Silence" ultimately revealed to Norris is that there's still much about the history of race in America that remains unwritten and unspoken, and that many people still yearn for an outlet to talk about how race has impacted their life.
One way she encourages people to bring their stories out of the shadows is by having them literally "play the race card." As she travels the country, Norris asks people to write down their thoughts about race on one of the postcards she's had printed up. The catch? Do it in six words or less.
Norris said she finds the responses she receives fascinating. "Someone wrote, 'No one word describes me.' Someone else wrote, 'Black wears me wherever I go.' Someone else wrote, 'Terrified you think I'm judging you.' "
Norris often corresponds with those who submit sentences. "I think of this exercise as a window, and each of those words in these six-word sentences is like a pane in that window," she said.
Those interested in "playing the race card" can submit their six-word sentence about race via postal mail to Grace of Silence, 5505 Connecticut Ave. NW, #303, Washington, D.C. 20015 or via e-mail at graceofsilence@gmail.com.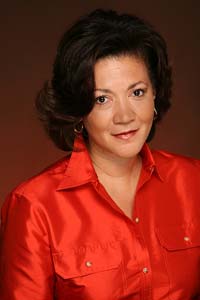 Michele Norris is the host of NPR's All Things Considered and the author of The Grace of Silence.
You can find it it your local book store or you can order it online at Amazon, Barnes & Noble, Borders, Powell's or IndieBound