RACE CARDS from Smithsonian Natural History Museum and the Community Foundation for the National Capital Region are co-sponsoring an invitation only event which will offer guests an advance preview of a new exhibit Race: Are We So Different?, which explores ideas of race from a scientific, social and contemporary/community lens.
One of the audience members wrote a blog post about my opening question — please give us one statistic that will provide a surprising or hidden aspect of race in America.
Read some of the interesting RACE CARDS collected at the opening.
Five 'Surprising' Facts About Race
June 21, 2011 | 12:26 PM | By Elahe Izadi
Last week, during the Community Foundation's annual meeting on race — Putting Race on the Table — moderator Michele Norris of NPR asked members of the expert panel to provide a surprising anecdote, statistic or fact that illustrated the state of race in the U.S. Here are some of their responses:
1. African Americans and government jobs: Tynesia Boyea Robinson, founder of D.C.-nonprofit Year Up, said cutting government jobs disproportionately impacts African Americans. According to a study by Labor Center at the University of California, 21 percent of working black adults work for the government, compared to 17 percent of white works and 15 percent of Hispanic workers) . Robinson said "the few gains you had from an economic standpoint for people have color may not survive."
2. Racial health disparities in D.C: Margaret K. O'Bryon, head of D.C.-based Consumer Health Foundation, said "if you live in Congress Heights in Ward 8, you get sicker and you die sooner than if you lived in Friendship Heights in Ward 3." O'Byron's characterization of health disparities can be backed up by D.C. Department of Health statistics (which can be seen here and here) that show vast disparities between predominately black Ward 8 and predominately white Ward 3.
3. Explicit racism versus racial anxiety: John a. powell is executive director of the Kirwan Institute for the Study of Race and Ethnicity and he studies racial attitudes in media and the country. He has measured a decrease in explicitly racist attitudes, "but a substantial uptick in racial anxiety," particularly among white Americans. Powell cites the birthers movement and the demand for Barrack Obama to show his birth certificate as examples of such racial anxiety.
4. Poor and Latino in Montgomery County: Gustavo Torres, executive director of immigrant advocacy nonprofit CASA de Maryland, highlighted a local issue: "the feminization of poverty" and how poverty affects the Latino community. In Montgomery County, Md., women represent 59 percent of the poor [PDF], and according to U.S. Census Bureau statistics, nearly 13 percent of Hispanics live below the poverty line — that's higher than any other racial group in the Maryland suburb [PDF].
5. The "Bradley Effect:" Sociologist and author Dalton Conley said that the "Bradley Effect" appears to be diminishing. The phenomenon, coined after the defeat of Tom Bradley, who was a black candidate running for California governor in the 1980s, is when opinion polls and election results differ because voters tell pollsters they are going to vote for a black candidate but actually vote for a white candidate. The Pew Center found that there was no systematic evidence showing the Bradley Effect playing a role the election of Barrack Obama as president.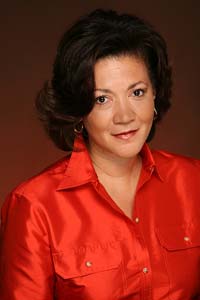 Michele Norris is the host of NPR's All Things Considered and the author of The Grace of Silence.
You can find it it your local book store or you can order it online at Amazon, Barnes & Noble, Borders, Powell's or IndieBound